These days finding good staff is like searching for a needle in a haystack. It's always one of the biggest challenges Independent Business Owners have, and recently it's become seemingly insurmountable to recruit people. Here's some tips on how to tackle your staffing challenges.
How To Find Staff (The GOOD Ones!)
The first myth we'll dispel is… do not waste your money on the online job posting sites. They are in the business of selling space. You'll pay for an ad regardless of whether or not you find employees. Their sole purpose is to drive traffic to their site – to have as many applicants go to their site as possible – where thousands of employers are waiting. You are fishing in a pond that is too large.
Instead, one option is to take control and create your own Google Ads, spending money to pinpoint specific geographic regions and potential employees who are looking for employers like you. It will get you MUCH better results for less money.
Your staff and customers are your next best source of potential candidates. Both have a vested interest in finding good people. Create a referral program for staff and customers – who else knows you better? Use your social media accounts, Royalty Rewards® email database and a referral bonus to solicit interest.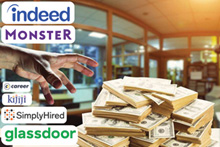 Don't Be Shy!
It's important that there's no question that you are hiring! Use whatever means you have available in-house, e.g. bathroom signage, a card with the bill, exterior signage and/or anywhere you can think of. A big challenge requires MASSIVE ACTION! Everything should lead to your online hiring page with all the necessary information: a recruitment video, the application and interview booking calendar.
Cast a wide net when you set out to find good employees. The larger the pool of candidates you have to choose from, the better your chances of finding the right ones. You can't have too much response – it's inevitable that only a small percentage of the interested candidates will become qualified candidates –
individuals who show up to the interview and are suited to the job. It's a numbers game.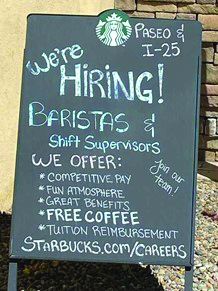 Here is a sandwich board we saw at the drive-thru at Starbucks. It does a good job of giving key details and a little insight into the company culture. The call to action is easier to remember with a simple URL.
Pro Tip: Include a QR code so people can just scan it with their phones and go right to your online application site. 
How Do I Get Job Seekers To Pick My Business?
This is where Independent Businesses get to shine. Here's the chance to set yourself apart from the large chain options, where an employee can get lost in the masses. Your company culture, your interest in the individual and the flexibility you can offer are what really appeals to current candidates.
Encourage your current employees to share testimonials about their jobs, either written or on video, and use them on your hiring page and in your hiring social media posts.
Focus on what makes you better than the other options they might be considering. If you have trouble coming up with those things, ask your employees. What do they like about working for you? Why do they stay? What do they think are the key benefits to their position?
Interview Secrets
Once your candidates find you, set up interviews to meet them in person. Ideally, this is done through an online application and scheduling platform to limit your workload. The online process also allows for reminder texts to be sent, which increases the chances that the prospective employees will show up for their interview.
Then, when you're sitting with them face to face, you'll have the best opportunity to see if they are suited for the job.
In addition to the standard questions that provide you with the facts you want to know, there's a set of questions you might be forgetting. These questions reveal people's "soft skills" to consider.
Tell me about something you were asked to do that you have never done before. How did you react and what did you learn?
– What is one of your greatest life lessons?
– How did you handle an urgent problem when your supervisor or manager was away?
– Have you ever been in a situation where being honest landed you in trouble?
– If you were a superhero, which one would you be and why? (This always shows me what type of person they are and what they value.)
– And here's one you've probably never considered before, but it is said to be one of the best tests of intelligence and communication skills and a way to gauge passion. "Explain something to me in five minutes that is complicated, but you know well?"
You Need A System!
If you're having trouble finding the right candidates, getting creative with your hiring process can help. Once you find them, you need to send them to a dedicated career page with the job openings, why you are the best option to choose, a recruitment video that shows your culture, an electronic application and an interview booking platform. You should only have to get involved once it's time to check references and take part in the interview process.
If you would like a copy of our FREE Guide, How To Staff Your Business In 30 Days Or Less… The Top 13 Strategies To Rising Above Your Competition To Win The Hiring Game.