There are a few KPIs (Key Performance Indicators) that get the Royalty Rewards® Team excited….
Royalty Rewards® Sales %:
% of your TOTAL SALES tracked through the program
Royalty Rewards® Swipe %:
% of TOTAL TRANSACTIONS tracked through program
Why? They DIRECTLY impact your Return on Investment. The more transactions and sales tracked through your rewards program, the higher your ROI will be.  Platinum Elite Member Scott Stanley, Stanley's Ale House, recently started using the Royalty Rewards® Wizard to capture reward transactions. To get the maximum benefit, Scott got all his staff using the app on their phones. The impact?
His total Swipe % increased by 33%.
Scott also tracks Swipe % By Employee to measure his team's performance. He can quickly identify team members with the lowest swipe % for retraining and reward those with the highest
swipe %. He even offers an internal rewards system called Stan-bucks that employees can use on food and beverage in-house. Your Team Members have a SIGNIFICANT impact over your Swipe %. And it could be the difference of 1 team member failing to ask customers the simple question…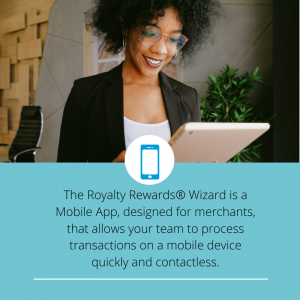 "Would you like to earn points on today's purchase?"
1) A non-Rewards Members will ask, "How do I do that?" and open the door to be enrolled.
2) An existing Rewards Member will reply, "Of course I do! Here is my membership."
The best way to hold your staff accountable for processing reward transactions is by calculating, posting, and creating fun contests and giveaways based on their individual Swipe %.