After the excitement of the holiday season, when the presents are opened, our pants are tight, and the hope of a New Year's resolution has started to fade, it's easy to fall into the January Blues. For Business Owners, we struggle with a different type of the January Blues… for many of us, it's the largest sales slump of the year.
This edition of the EZ Profit Report Newsletter has been dedicated to helping you "Dig the well before you thirst" and NOW is a perfect time to take action and counteract the January seasonal slump. Check out the Sales Boost insert to see all the options you have to turn the January Blues into January Jollies! (Yes, we said that.)
And if you REALLY want to blow January out of the water, do it with a Scratch Campaign Giveaway. This promotion works to drive sales during the month of January, not only with the power of a Royalty Rewards® Sales Boost campaign, but with the power of curiosity…and a variety of prizes!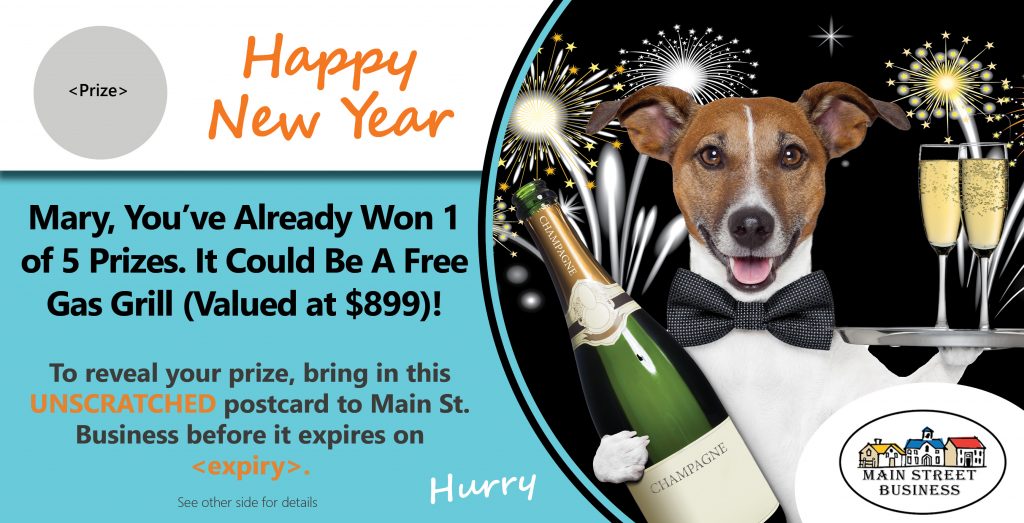 Check out the sample here (we have lots of artwork options available). When this campaign arrives, your member has ALREADY won a Prize. The best part? They don't know which prize they've won until they visit your business to have it revealed.
The most successful campaigns have a variety of exciting prizes, all increasing in perceived value. The types and number of prizes you give away is up to you. And right now is the PERFECT time to go shopping for prizes. If you do a little digging, you can get high-value gifts for a fraction of the cost. Your grand prize could be a TV, a Tablet, a Gas Grill…the options are endless. 
With this campaign, you are in control. Although you will want to have several prizes with a high perceived value, the majority of your members will be gifted with an offer of your choice, perhaps $10.00 off their next visit. Again, YOU control the number of each prize that is given away. 
To get extra mileage from this campaign, create a build up all month long. Display the assortment of prizes in your business, use four walls marketing (we can help you create signage!), send emails, and then celebrate the big winners, take their photos and share in your emails and other marketing. Call your Coach at 1-888-353-5012 today to get started!
Results That Speak For Themselves
Check out the Sales and ROI generated entirely by members who received a Scratch Campaign!!
Auto Repair:
Retail:
Restaurant:
$101,251.34 in Sales
$85,559.80 in Sales
$28,545.72 in Sales
ROI $72 to $1
ROI $63 to $1
ROI $32 to $1