At each meeting, Platinum Elite Members have the opportunity to compete in a CONTEST where the winner takes home a $1000.00 Amex Gift Card. The contest changes for each meeting, but it is always designed to help Platinum Elite Members increase their sales, profits, or improve their operations in some way. Each member gets 10 minutes at the meeting to present their contest package before everyone votes on the winner. It's an INVALUABLE opportunity for everyone in attendance as they get to listen to the TOP money making ideas from some of the most successful Royalty Rewards® merchants.
At the last Platinum Elite Meeting, we heard some great contest entries for The 'ONE' Thing Contest. That is, the 'ONE' most important thing that, once implemented, would have the largest impact on Platinum Elite Businesses… and we wanted to share one with you.
For Platinum Elite Member Sam Eck of Jantz Cafe in California, his 'ONE' thing was PROFIT… so he set off to rework his menu. After receiving some advice from his fellow Platinum Elite Member Tom Beckmann, Sam decided to create a VERY HIGH PRICE breakfast plate with one goal in mind… to mask raising prices on the rest of the menu.
Sam's goal was not to necessarily SELL a lot of these breakfast plates, but to place something SO extravagant on his menu, and price it VERY HIGH, so as to impact how his guests PERCEIVE the prices of other menu items. If you are comparing a $50.00 item to a $25.99 item, your perception of the latter changes, doesn't it?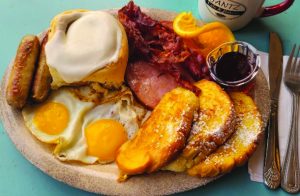 Sam not only boldly implemented this strategy, he leveraged it by creating a CONTEST for his guests to NAME this new and extravagant breakfast plate. The winner (out of 120 entries!!)?… The BOB (Big Ol' Breakfast). They charge $30.00 for it and also added a scaled down version (the Lil BOB) for $19.00. They didn't think people would order it… but people love it, it's the topic of MANY chats at the cafe…. AND it's got a huge profit margin! 
After adding the BOB, Sam raised all other prices by 3%. The results? Profits were up by 2%. Way to go Sam!
What is YOUR BOB? No matter what type of business you have, this strategy can help you impact how your customers perceive your services and prices. For Auto Repair Shops, what groups of services can you package and price to create this spectrum in price perception? Or what services that you offer need a price increase? Another Platinum Elite Member, Rita from Mewassin Automotive, recently realized how valuable RV repairs were for her repair shop. What did she do? Created an entire initiative to build that type of business. What can you do to charge more?
If you haven't raised your prices in the last 6 months, it's time.
You deserve to make a decent living from your business and support your staff in the effort. Push the envelope. Get paid top dollar. And deliver such extraordinary service that people will eagerly pay well for it.