In Edition 2, we talked about the impact 2020 had on your customer's spending habits. Yes, it changed them. And although we didn't have much control then, we can take action now. If you've ever attended a Royalty Rewards® Event, you've likely heard us talk about "hope-based marketing". The concept is simple really. Now is not the time to sit back and "hope" your customers will return and spend like they did in the good old days. This is exactly why you have a customer database.
You've built it, invested in it, and it's here to work for you as you re-engage your Lost Customers. We like to call reactivating Lost and Inactive customers the gift that keeps on giving. Not only does it generate a return visit, but members become ACTIVE again. Active members earn points, receive rewards and other campaigns, and the spending cycle continues.
As a first, low-cost step, your Coach will likely recommend using Email On Demand. This will help us chip away at customers who haven't visited in some time before we pursue more aggressive steps. After just ONE email, Northwest Imports (Royalty Rewards® Merchant since 2013) reactivated 2 Members from Inactive status who visited the shop and spent $1,742.17.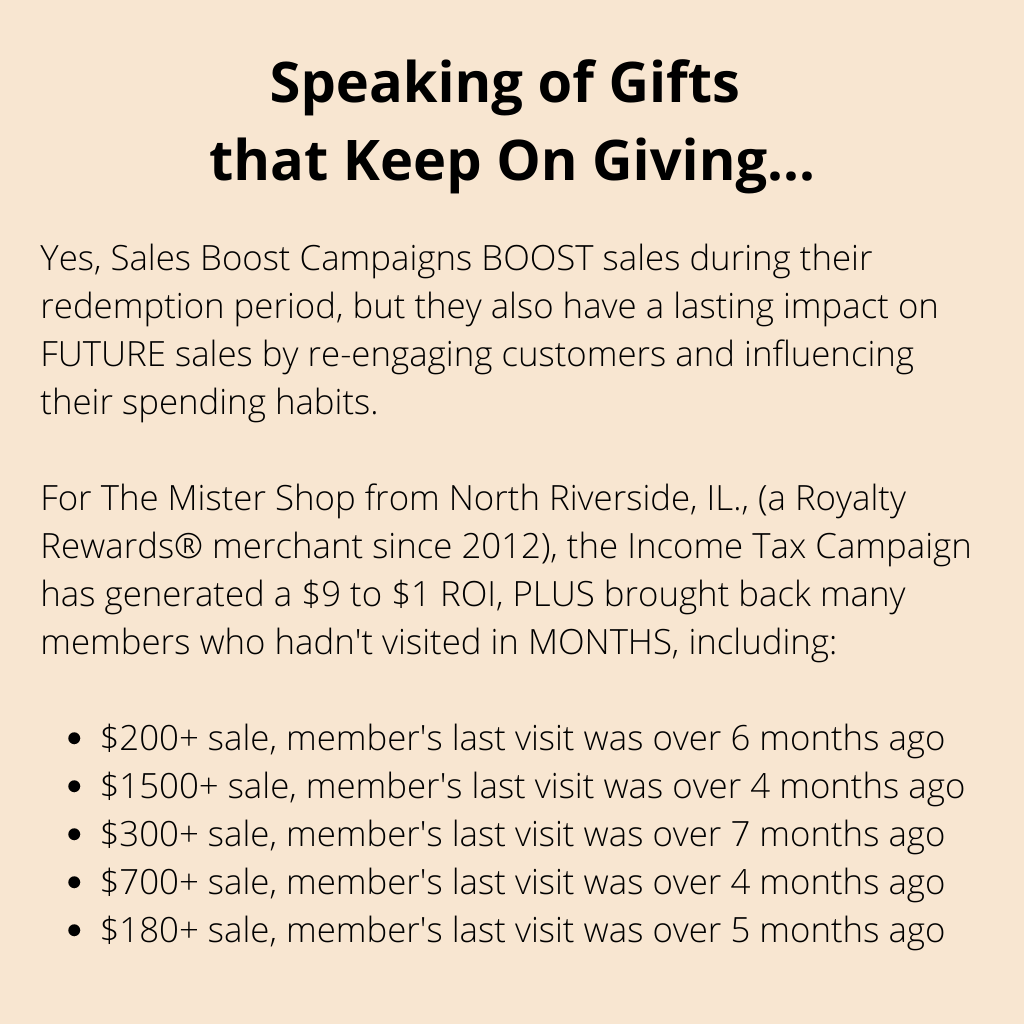 Although that might not sound like a home run, it surely is. With the lifetime value of a customer over 5 years totaling close to $30,000, reactivating as few as two people is a big win for any business.
On the tail of that success, they sent a February Sales Boost campaign offering '$20 Off Any Service of $100 or More'. In addition to generating sales from Active Rewards Members, it also reactivated 1 Lost and 1 Inactive Rewards Member. Another HOME RUN for Northwest Imports.
Your database is full of diamonds and your Coach can help you mine them. Call your Coach and take a proactive step to re-engage your customers and influence their spending behavior.