Keep this list handy and use it the next time you write an email. Sign up for other people's email lists so you can "swipe and deploy" ideas that you like, especially if they are in an industry different from yours.
1. Subject line—this is the first thing your recipient will see so it needs to jump out of their inbox at them. It can by funny, topical, shocking—anything to grab their attention. It's sole job is to get them to open the email. Bent's range from the obvious offer, to curiosity, to funny, to shocking, to encouraging action.
One of Bent's subject lines last summer was "I HAD the best plan EVER…". Which immediately got me to open it out of curiosity. What is this BEST plan??? And why past tense???
2. Headline—the headline needs to restate the subject line and elaborate on it. Tell the reader what's in it for them.
When I opened it, the headline "THE BEST PLAN EVER" related to the Subject. Now he's sharing the plan! I needed to keep reading.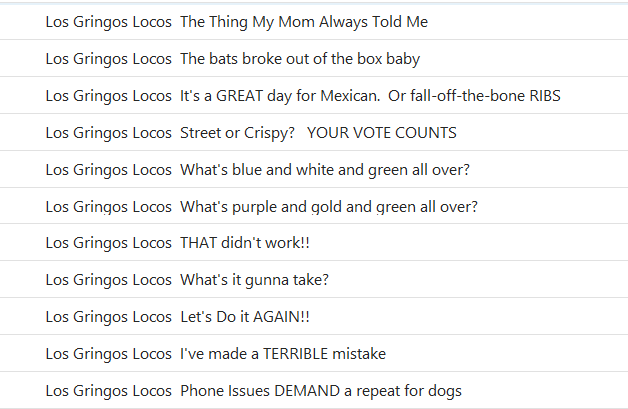 3. Sub-Headline— Sub-headlines create a dual readership path. Not all readers will read every word you write so to break up your content, add subheads that highlight the key parts of the message. If someone only reads those, they'll understand your intent.
For example, at a quick scan of the headlines your customer would read "Sometimes things don't go as planned" and then further down "Improvise". That tells the basic story.

4. The Message/Copy/Format—you want to be creating a connection, a relationship with your customers. You want to encourage them to read all emails from you. Include pictures ONLY if they relate to your message, use a font that is easy to read, not too small or fancy.
At the top of Bent's email below, it follows his standard layout. Right at the top is all the important info I would need quickly. He's created the tagline "We Are Resilient" that he has used since the beginning of Covid-19 and it has become part of the culture of his team. He's trained his readers to look there for the vital info.
When you read the copy, it's engaging, personal, a story, a connection. He's relating to me. It's entering the reader's world, they all live in LA, Dodger's baseball is a big deal. 
Bent then included an offer and it relates to the story. When you include an offer, it needs to clearly state the call to action… he's included the phone number and a clickable link to order online in bold print so you don't miss it. If there was an expiry date, it would be important to include that too. Then he's smart enough to include an upsell and a freebie, to add to your order.
5. Send Timing—every industry, every business, is different. Only by testing your emails on various times and days and frequency will you find what works best for your target market. Maybe it's first thing in the morning, maybe it's on Fridays after work. Whatever it is, by testing you will know.
Bent has sent an email almost daily for months, his open rates have increased, and his customers praise him for his emails. He even surveyed them about his communication, and they say the frequency was "just right". You may not want to send them daily, but start with monthly, and pay attention to the results.
6. Text or HTML— HTML email offer more options, but they aren't always readable in the format you sent them. Make sure you consider what your message will look like if all the HTML is removed.
Your Coach can help you format your emails for the first time and walk you though the email on demand program embedded in Royalty Rewards®. Your emails will be linked back to each person who receives it and they can include a promo code for tracking purposes. You can slice and dice your email list into whatever groups of customers you would like, lost customers, top customers, least frequent customers. Talk to your Coach; they'll have all sorts of suggestions to effectively communicate different messages.
7. Consider The Viewing Screen—many people are reading your emails on their phone or tablets so a really long, or wide email is going to be hard for them to read. Write with small screens in mind.
8. The Offer—your offer has to be compelling and incite people to action. Again, testing will be of great value. Try a number of offers, premiums, bundling services, or items you barter with non-competing businesses. Once you have found a few that work, rotate through them, and tweak them for a different perspective. Bent's restaurant sells tacos. But in the email above he's taken products he already makes, bundled them into two different packages and given them a timely name.
9. Bounces and Fixes – Undelivered addresses are often simple typos. Talk to your Coach to get updated email addresses by turning on the "Lost in Cyberspace" postcard campaign. It sends a postcard to bounced email recipients automatically. This is an ongoing list maintenance challenge that needs to have a system in place for your emails to be effective.
10. The From Address— Call you Royalty Rewards® Coach and update your FROM field in your On Demand email to something more personal than our standard default. Use your name or your company name so that the recipient can quickly identify you.
Royalty Rewards® automatic marketing components will do much of the repetitive communicating for you, but to keep your relationship alive, you need to also build a personal connection. Email is a great tool in your toolbox, and you can always think of something to share with your customers, especially when you have a special offer or a solution to their problems. Direct mail has the highest results, so you want to use it effectively.
Hearing from you regularly is a huge part of what will build loyalty and get your customers to think of you first when they need your services. Infuse your communication with your personality, solve their problems with your offers and keep your customers informed. Every rewarding relationship is built over TIME and a commitment to stay connected.